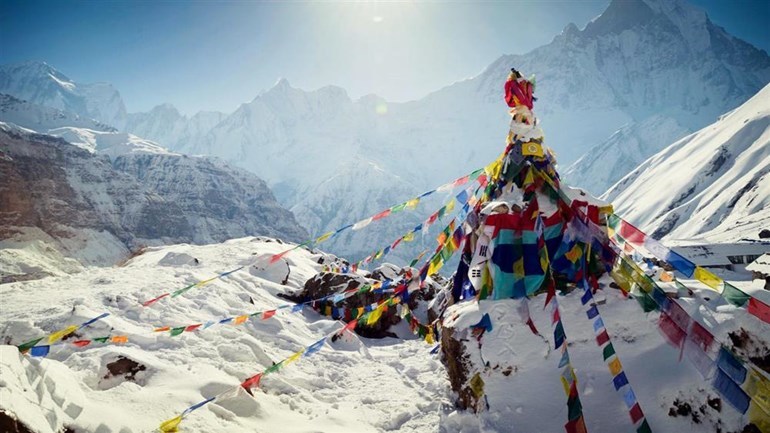 In November, our Digital Director, Ian McKay, will embark on one of the world's great journeys to reach Mount Everest Base Camp (EBC), 17,600 feet above sea level.

A self-confessed lover of travel and culture, Ian says the trek is a life-long dream and one that he hopes will inspire him to one day reach the summit.
"It's just something I've always wanted to do. I've always been interested in going to Nepal and the Himalayas. It's also a bit of a recce. I want to see what it's like and who knows, maybe one day I can attempt the whole thing."

–
Renowned for its beautiful scenery, this challenging trek attracts around 30,000 visitors each year and takes around 18 days (including acclimatisation) to complete.  
But altitude sickness and blisters are the least of Ian's worries. First, he has to brave the hair-raising flight to Lukla Airport, one of the most dangerous air-strips in the world. It teeters over a sheer mountain drop and isn't for the faint-hearted.  
Never one to shy away from a challenge, Ian is determined to make the journey and finish the trek to raise money for the Stroke Association. As well as having family and friends that have been affected by stroke, Ian says it is our recent work with SAFE (Stroke Alliance For Europe) that has inspired him to complete it.

"It's just been incredible listening to all the stories from stroke survivors. We travelled to Zagreb and met some truly inspirational people who have been through so much. I want to do this for them. I've set up a Just Giving page and as the trip is self-funded then I'll be giving 100% of all donations to the Stroke Association".

–
Ian is currently in training, putting in extra hours in the gym and completing other, less challenging, hikes in preparation for the big event.
He is hoping to raise around £1,500 for the Stroke Association.
You can follow his progress and make a donation at www.justgiving.com/fundraising/imckay.